Well, this is my first attempt to build a set that I haven't bought. A few months ago, before being hit by the buy-all-the-lego-trains virus, I downloaded from LEGO page most of the Technic Set instructions they have there. Around a 6GB download.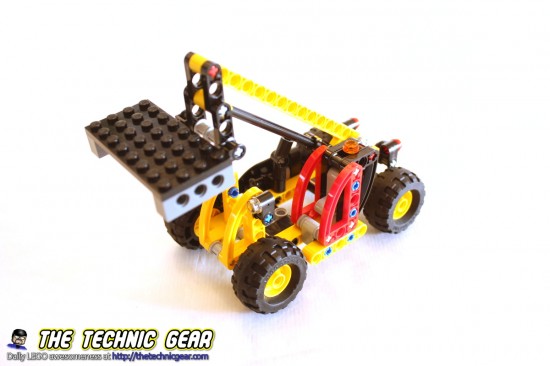 So, as I was saying I downloaded them, copied to the iPad and chose one randomly, so here it is the LEGO Technic 8045 Loader. I had most of the parts except the wheels and the two half-beams that create the cockpit.
Model data
Name Loader
Ref. Code 8045
Theme Technic
Year 2010
Parts 117
Price £9.99 ( although it is a Retired Set now )
Where can I buy LEGO 8045?
Amazon
The LEGO Shop
Model background
Use the rear-mounted control knob to raise and lower the Mini Telehandler's fully-functional boom and forks. For even more fun, you can rebuild it into an authentic LEGO Technic motorcycle with side car.
Building experience
I am not going to talk about how the box or the manuals looked because I have no idea :) I just wanted to put my LEGO bricks to work.
This is a small LEGO Technic set but much like the 42008 Backhoe Loader that I built a few weeks ago, it is a very fun set to build.
In my case, being the first time I build from my own parts I have found that it is harder than it looks and I lost lots of time looking for parts, even when I have them perfectly ordered. Have you ever tried this? How do you do it?
Well, watch here the timelapse building video.
[Note: I am realizing that I have forgotten to add a 4L half-beam on one side of the arm but… the model works and it is so much time lost to shot the photos again :)]
Complete model
Here it is the complete model.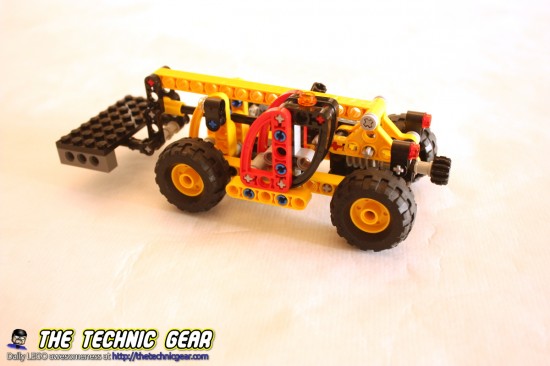 And to be fair here it is a photo of the original model. Fair enough, don't you think so?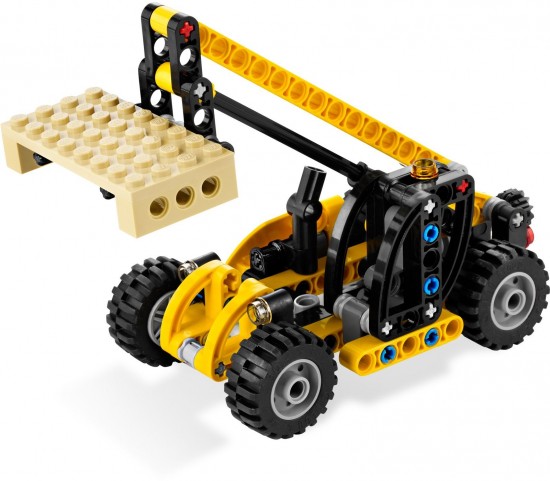 The main feature of this model is an arm that can be raised and lowered using a gear on the back of the loader that operates a worm gear.
It has two parallel arms that help keeping the loader's load straight and in balance.
On the down side, the wheels on the model doesn't work well, making it impossible to turn it.
Overview
Miguel says 7/10
Building experience

Value for money

Playability

Parts

Pros
– Lovely physics lesson
– Great example of why a worm gear must be used
Cons
– It can't steer
Does LEGO 8045 worth the money?
It is a retired product, so I guess that it doesn't worth whatever money they are asking for it now. Go, move your lazy ass and build it yourself. It wasn't that hard and most of the parts are quite easy to find.