Minecraft? Minecraft? No idea… ahh!… that ugly game that looks like 1990 is yet to come… no thanks. Unfortunately my son asked me to install Minecraft because he has saw some friends playing it and it was really cool. So I did and as a good father that I am I decided to play it first to see if it was suitable for him and in order to explain him how to play it. First error!
Minecraft is a open world game with a really ugly 8 bit graphics. Imagine Minecraft as the digital version of LEGO on steroids… just crazy awesomeness in barely 50MB of download. I started playing it and instantly fell in love with Minecraft.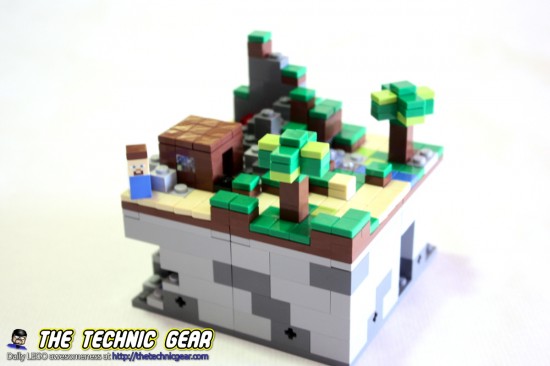 So when I saw the LEGO Cuusoo/Ideas version of Minecraft I decided to buy it. And here is the review for you. Right now LEGO is releasing a "proper" Minecraft sets line, and I will review one of them really soon.
Model data
Name Minecraft Micro World: The Forest
Ref. Code 21102
Theme Cuuscoo/Ideas
Year 2012
Parts 480
Price £34.99
Minifigs 2 ( Microfigs )
Where can I buy LEGO 22102?
Amazon
Model background
Create, explore and play in a Minecraft microbuild!
Build a mini model of the game that's sweeping the Internet with a LEGO® microbuild version of Minecraft! Selected by LEGO CUUSOO members, this build features a cool design with lots of 1×1 LEGO tiles and 2 buildable Micromob characters: Steve and Creeper.
Model Box
In a pretty nice homage to Minecraft the box departs of the standard LEGO boxes size and this one is an square block with a printed pattern that resembles that of a Minecraft grass block.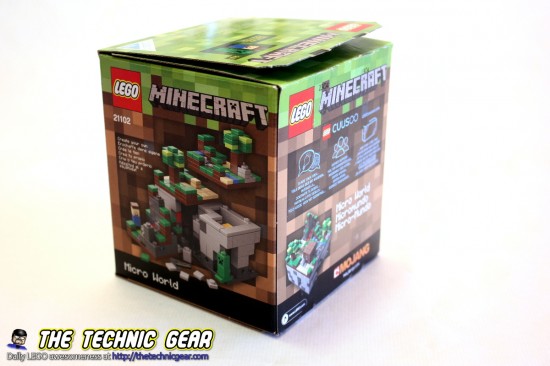 Manuals
Comes with two manuals that instructs how to build each of the 8 blocks that made this set.
Building experience
It is a quite interesting building and quite different to other LEGO sets. This set makes an extensive usage of 1×1 plates and bricks making it really extenuating to build it… and that's really part of the fun :D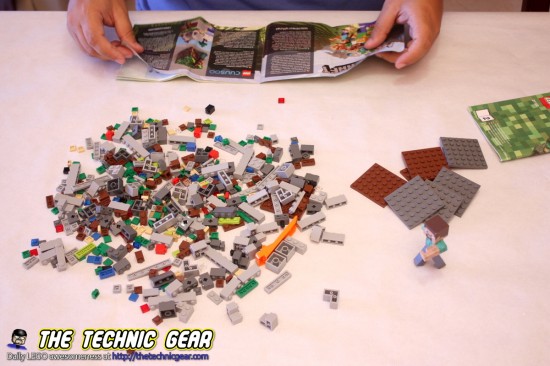 I have had a lot of fun building this. Here is the timelapse building
Complete model
This is the complete model.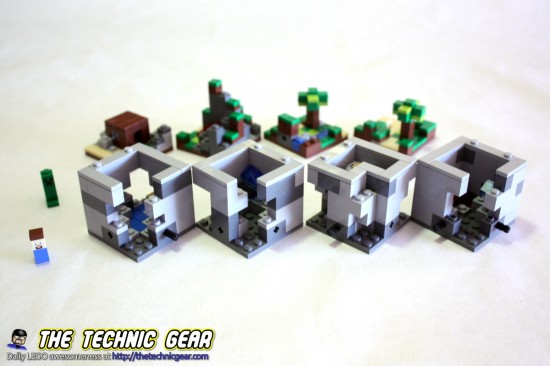 It is is made with four different base blocks that has a dungeon with some water and lava and them over it you have a little house and a mountain with two trees. If you have played Minecraft you will know this is pretty much the first night setup :)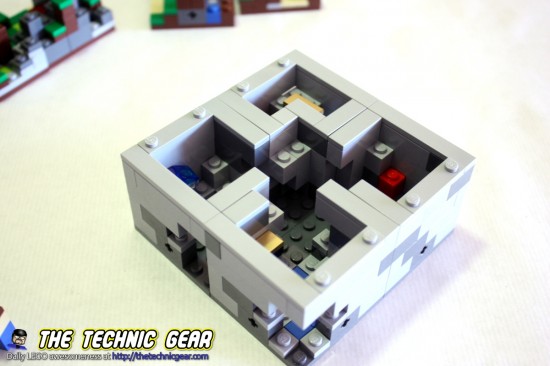 It has to micro-figures of Steve and a Creeper.
Overview
Miguel says 10/10
Building experience

Value for money

Playability

Parts

Pros
– I love it!
Cons
– Careful with your fingers :)
Does LEGO 22102 worth the money?
Every single pence you pay of it… given that you pay no more than £35 for it. Check Amazon for a bargain.