LEGO Technic range of sets is about creating machines that work and move, so what better set that this fantastic F1 Car with dozens of details. I have built quite a few Technic sets already but none left me as satisfied as this Grand Prix Racer.
Let's review today serious stuff. I wasn't really sure if I should save my money for the 42009 Mobile Crane or I should buy now the 42000 Grand Prix Racer. Hard decision. Life is so hard sometimes…
So I poked some people around Facebook and some LEGO forums that I follow and the general agreement was to wait for the 42009 Mobile Crane because the Power Functions parts and the extra awesomeness… so… I decided to go and buy the F1 Racer… when the time comes I will see what I can do to afford the Mobile Crane [EDIT: I have just ordered and received it. Terrible big box! ]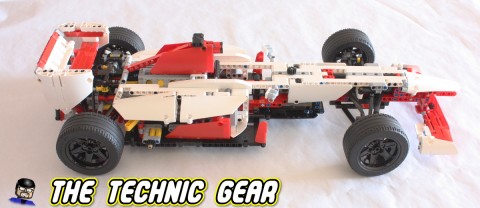 The 42000 Grand Prix Racer…, what the hell, this is a F1 car. Is LEGO trying to save a license? Come on, you can't be that cheap with a toy that is around £80…
Model data
Name Grand Prix Racer
Ref. Code 42000
Theme Technic
Year 2013
Parts 1141
Price £79.99
Price per part 0.07
Minifigs None
Where can I buy 42000 F1 Car
Amazon
Model background
Get ready to burn rubber in the Grand Prix Racer! This 2-in-1 LEGO Technic model is crammed with realistic details and functions, like the opening engine cover, independent all-wheel suspension, V8 engine with moving pistons, adjustable rear spoiler and steering capabilities. Build a model that's just like the real thing! Motorize it with 8293 LEGO Power Functions Motor Set (sold separately) for even more supercharged fun! Rebuilds into a cool Race Truck with independent front and rear wheel suspension, engine with moving pistons, opening hood and adjustable rear wing.
Model Box
If you have see the Unimog or the 4×4 Crawler their boxes are simply huge. This F1 car on the other hand comes in a more handleable box that it is full of parts. Unfortunately the models comes with no Power Function parts…
Manuals
For such an interesting model the instructions is surprisingly short. Just three booklets to build the whole model. The model comes with lots of stickers to decorate it that I haven't used at all.
Building experience
This model is a real delight to build. I have enjoyed it more than the Unimog or the 4×4 Crawler as you progress really fast through it.
The lovely way the steering wheel works, the suspension, the spoilers, the incredible (and fake) V8 motor, the four new fantastic wheels… all in this model is so lovely.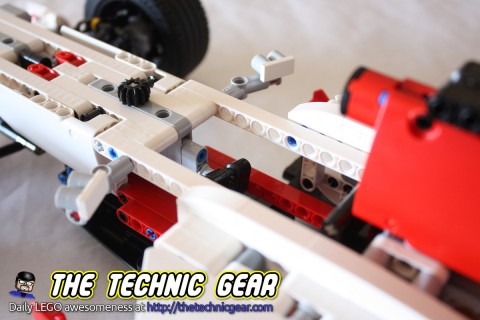 Although the car doesn't move at all ( unless you move it with your hands ) it is really awesome how it is build. You can steer the wheels either by moving the steering wheel or by using a special gear placed on the top of the car for that task.
You can raise the cover that contains the V8 motor using linear actuators ( two of them ) or change the selector and move the tiling spoiler on the back of the car. Both front and back axles has differential gears to allow the car a great turning distance.
Watch this video for the timelapse building of the model.
Complete model
This is the complete car. Here you have the main features in this short two minutes video.
There are so many parts that really deserves a mentions that it is hard to start writing.
First the front part of the car features a greatly detailed F1 car's frontal flaps.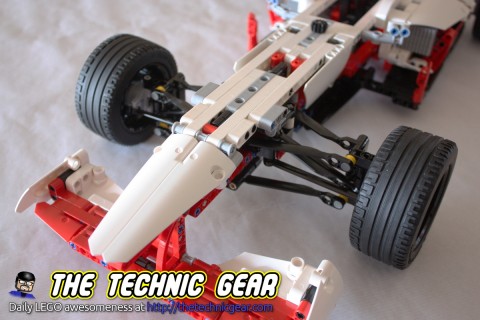 The wheels and suspension is incredible solid and stable, you can push the car in a straight line and it won't turn at all. You can't imagine how hard was to take it apart when I had to do it.
The fact that the steering wheel moves when the car steers is something that really won my heart. Just after the seat the model hides a moving-piston fake V8 engine that can be seen at its full glory because the car features two linear actuators for lifting a cover over it.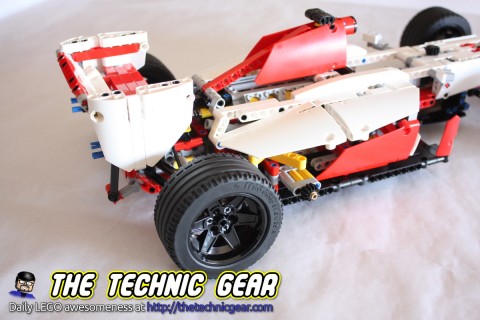 Finally the rear spoilers on the back of the car can be adjusted for obtaining the best turn performance, or just for aesthetics… as it is the case.
Overview
I love F1. I really enjoy watching those endless racing cars doing one turn after another. So this model already had my heart won, but when building it, I have enjoyed so much that I can't but to recommend it to you.
Miguel says 9.5/10
Building experience

Value for money

Playability

Parts

Pros
Lovely model. Maybe it is the model I have enjoyed more building it.
Lots of parts, specially many of them suitable for car building like differential gears.
Cons
It doesn't move at all. If LEGO would have put a Large motor or two in this model as well as a IR control like in the 4×4 Crawler, this would have been my favorite LEGO Technic model ever…
Summary for 42000 Grand Prix Racer
Summary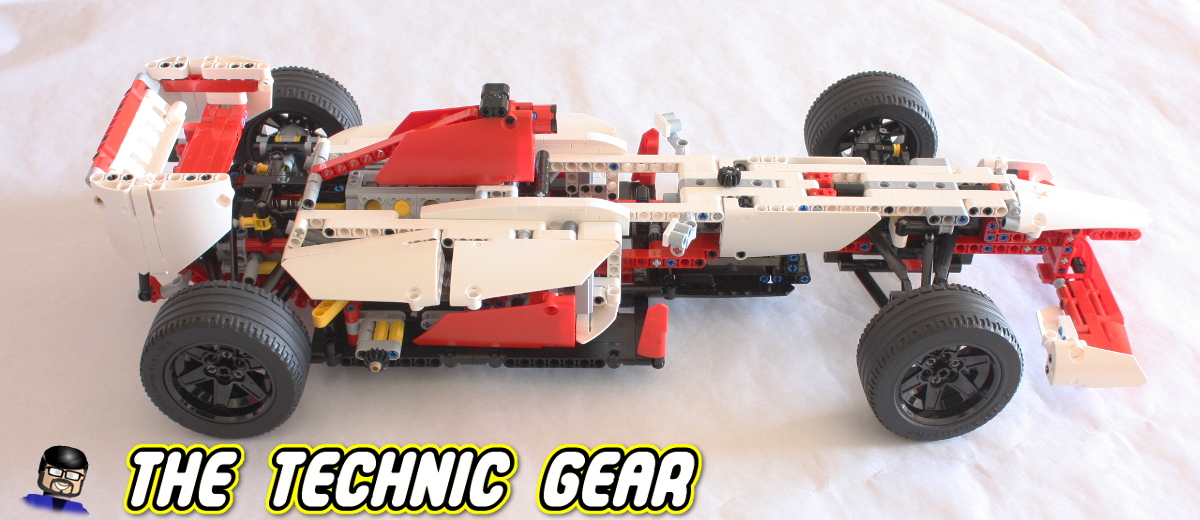 Author Rating





Brand Name
Product Name
Price
Product Availability