There are endless possibilities with LEGO bricks, from buildings, trains, cars, space ships to super heroes. The range is endless. And the most awesome part is that you can turn ones into the others.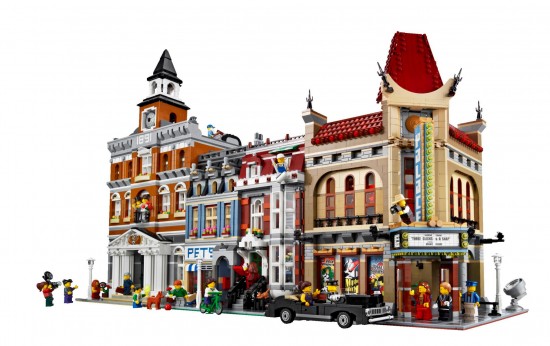 In this page you will find all my LEGO reviews except those of Mindstorms and Technic and some of my own creations. There specially two range of LEGO sets that I love and they are Trains and Modulars.
LEGO Trains
LEGO Trains are something lovely. Some people says that they don't have an accurate scale or that the shape isn't totally correct but the fact that in so little space you can create a really nice replica of a real train is awesome for me.
Don't miss this list of the best LEGO Trains you can watch on Youtube.
These are my LEGO Trains Reviews

LEGO City, Creator and Modular
This is my second passion and I think it is closely related to LEGO Trains… what better than a fabulous city to make your train move around it. LEGO Modulars are special, expert sets released by LEGO to create complex buildings that can join to each other creating a long big City.
These are my LEGO City Reviews

LEGO The Lord of the Rings & LEGO The Hobbit
If there is a lovely LEGO thing that is that little minifigs based on the adventures of Bilbo and Frodo Baggins. Based on the books of JRR Tolkien, the LEGO Lord of the Rings and LEGO The Hobbit are quite good recreations of the films' best moments like Helm's Deep or The Black Gate.
These are my LEGO The Lord of the Rings Reviews

The LEGO Movie
My first though when I looked at these sets was that it was perhaps the ugliest thing I have seen. So many different parts in places so uncommon like the Castle Cavalry.
Then I saw the movie and I understood and well, in fact some of them are ugly but there are also fantastic sets like the Bad Cop's Pursuit or the MetalBeard's Sea Cow.
These are my The LEGO Movie Reviews

LEGO Star Wars
To be fair, I have never been a huge fan of the Star Wars movie. So for me the LEGO Star Wars were as interesting as overpriced. Of lately, still no fan of Star Wars but I have found that the sets has lots of interesting parts and building techniques.
These are my LEGO Star Wars Reviews

LEGO Marvel and DC Superheroes
If you don't fall in love with this little Captain America then you simply have no heart. There are a few quite interesting jewels in the LEGO Superheroes Sets range. Many of the sets has unique minifigures of your favourites superheroes and villains like Batman. Always be Batman!.

LEGO Video Reviews
There are so many that it would be pointless to write them here, so please go to the Youtube channel and enjoy. I am always willing to listen to your comments specially things you don't like and think it could be improved. I am in a quest for the perfect LEGO review!