Don't be fooled by the box size or its price, the LEGO 42005 Monster Truck is one of the best LEGO sets that you can buy right now: affordable, with a good amount of parts and extremely fun.
I built this model from parts I own and well, it is pretty much exactly as the original Monster Truck.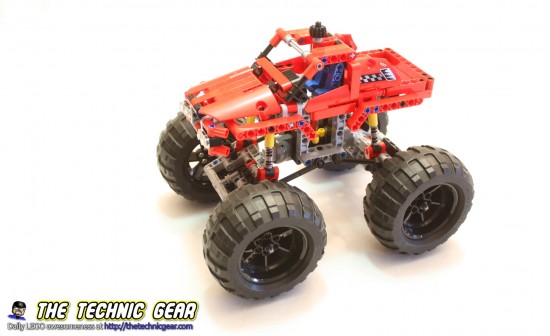 It has been a wonderful experience to build it from the parts I own, but I have realized that LEGO inventory isn't 100% reliable… I have had to go back to my parts box several times to get a missing part.

Model data
Name Monster Truck
Ref. Code 42005
Theme Technic
Year 2013
Parts 329
Price £34.99
Minifigs No
Where can I buy LEGO 42005?
Amazon
Model background
Create an extreme machine with the awesome LEGO Technic Monster Truck! This 2-in-1 model features 4-wheel suspension, all-wheel drive steering, flame detailing and monster-size rubber tires! Crush the competition and astound the crowds, then rebuild into a monster dune buggy with rear suspension, steering and moveable rear spoiler.
Features extreme 4-wheel suspension, all-wheel drive, flame detailing and monster-size wheels
Model Box
As I didn't buy it I didn't have the box on my hands so really I have no idea how big and full is it.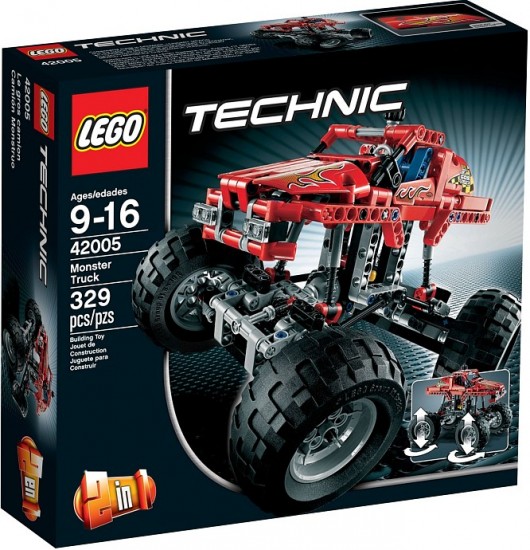 Manuals
The model is built from a single manual
Building experience
This is a wonderful set. Really the more small sets I built the more I realize that it is the way to go. On these small ( and this one isn't so small ) you always have a clear idea of what are you building and most of times why are you building it.
This model is very similar to the 4×4 Crawler but in a half scale, so the building process is interestingly similar. I like the way it is built.
There are two parts: the vehicle chassis and the top part.
Here it is the mandatory timelapse video
Complete model
So this is the Monster Truck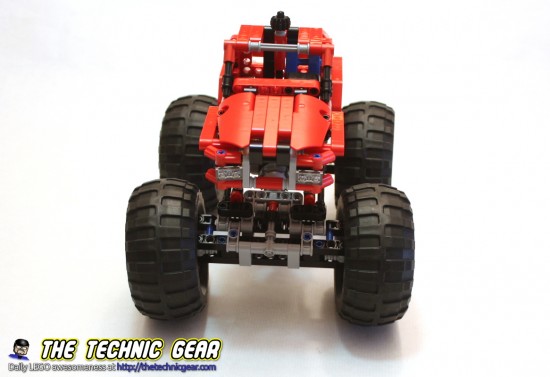 Here you have a detail of the steering system that it is build using two 5×7 frames…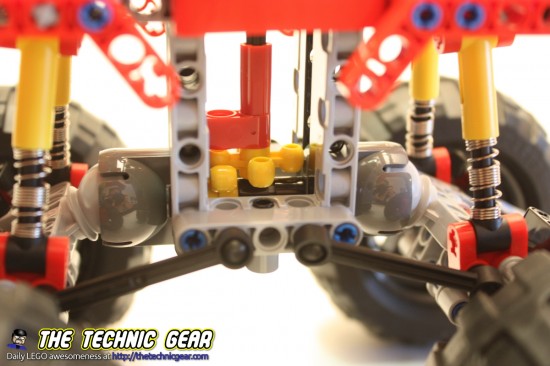 And the gear that actually moves the wheels.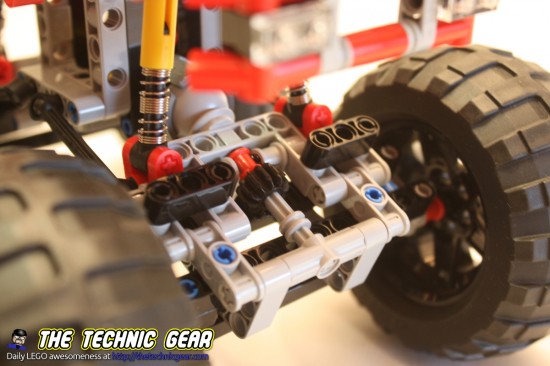 And here you have all the springs that keep the model up.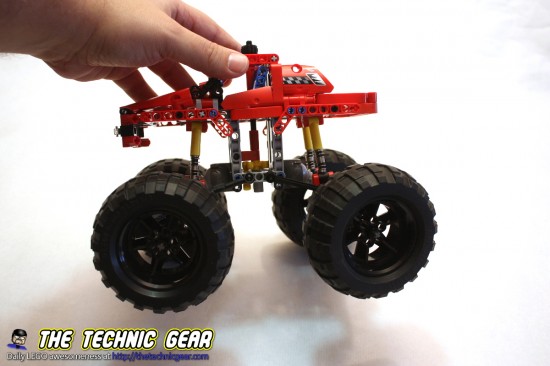 And the mandatory bottom photo :)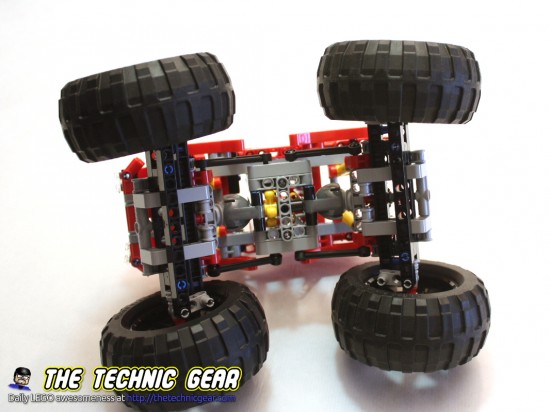 And as I haven't took it apart yet, here it is a side by side comparative of the Monster Truck and the 4×4 Crawler. The wheels are the one used in the Unimog.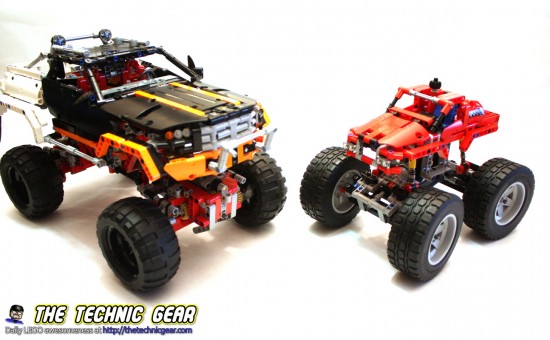 Overview
It is a fantastic set.
Miguel says 9.5/10
Building experience

Value for money

Playability

Parts

Pros
– It is lovely to build
– It has a good amount of parts
– The model is highly playable
Cons
– I miss some vehicle specific parts like differentials
– Adding IR capabilities would have been awesome.
Does LEGO 42005 worth the money?
Definitively. I loved it so much that I am thinking about getting one to keep it built. My sons loved it. You can buy it at Amazon.
LEGO 42005 Monster Truck Summary
Summary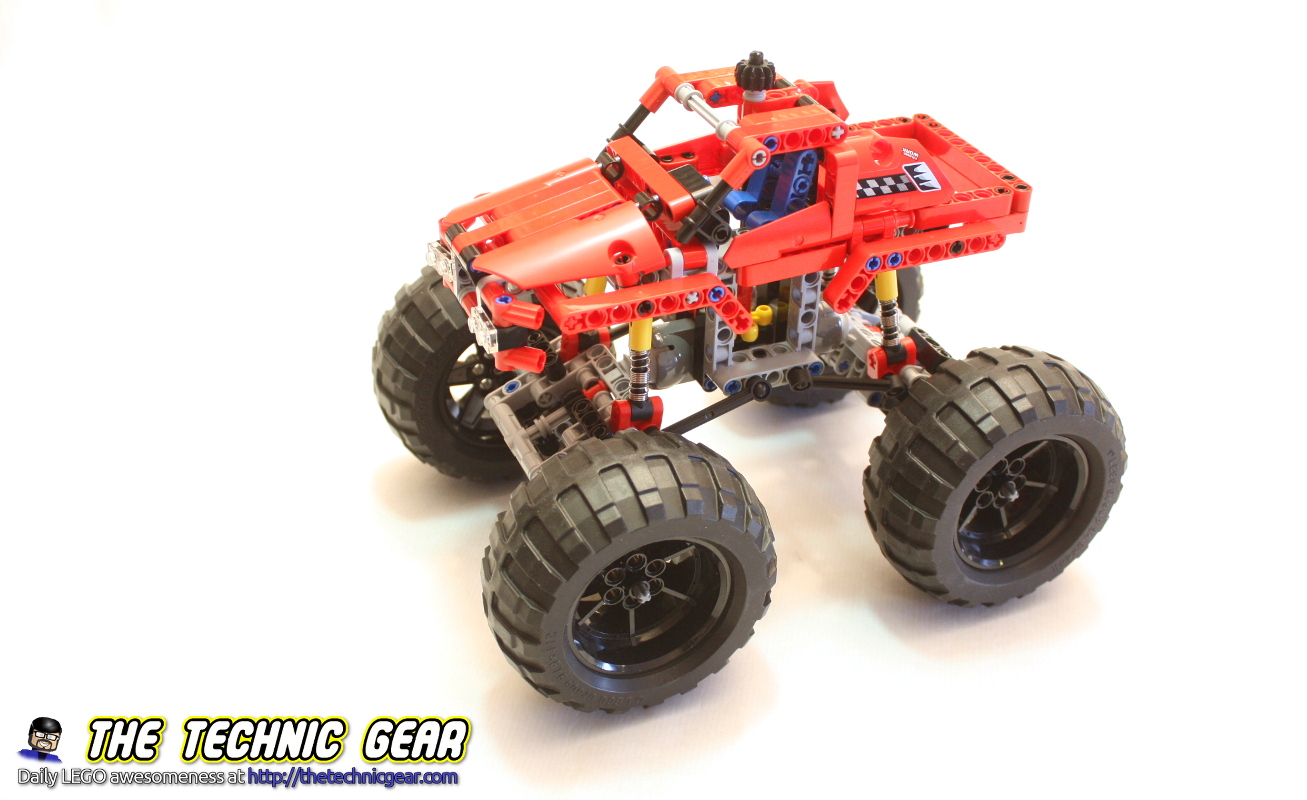 Author Rating





Brand Name
Product Name
Technic 42005 Monster Truck
Price
Product Availability