Enough! Here you have what you were looking for, a proper LEGO Technic review, today reviewing for you the 42004 Mini Backhoe Loader.
And for once, size and money isn't that important. A really nice model.
Model data
Name Mini Backhoe Loader
Ref. Code 42004
Theme Technic
Year 2013
Parts 246
Price £18
Minifigs No
Where can I buy LEGO 42004?
Amazon
Model background
Make any job easier with the iconic Mini Backhoe Loader. This 2-in-1 LEGO Technic model features loads of realistic details, like raising/lowering front arm and tipping front bucket, articulated steering and a raising/lowering/turning backhoe. Construct and create with the 2-in-1 Mini Backhoe Loader that's modeled after the real thing. Rebuilds into a tough Telehandler with working steering, raising boom and a tipping shovel.
Model Box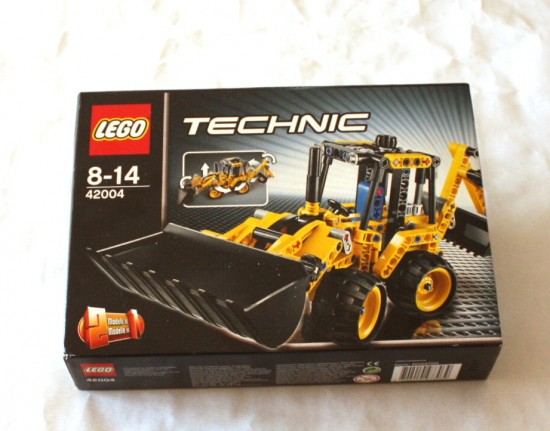 It is a decent box with the Backhoe loader on one side and the telehandler on the other.
It isn't specially full but you don't get the feeling of being ripped when you open it.
This is the back side.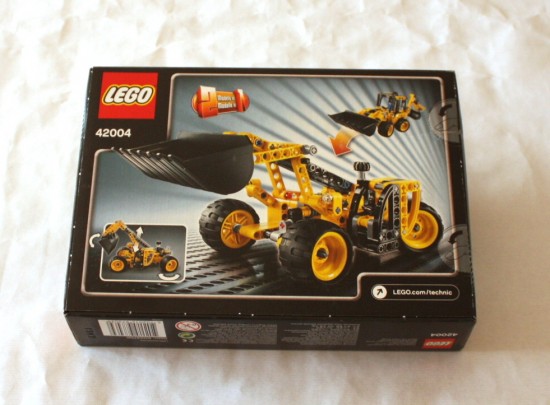 Manuals
Two intruction manuals but it is pretty straight forward.
Building experience
This is a delighful model to build because it feature incredible techniques that are a must for bigger, more complex constructions. But as this model is so small you get a clearer inmediate picture of what are you doing.
Here you have my semi-mandatory timelapse building.
Complete model
As I was writing before… this model is a great pleasure to build. The way it looks, it is incredible how, with so little pieces, close looks to the original thing. Also it is a cool thing to see how most of the stuff works.
Front Arm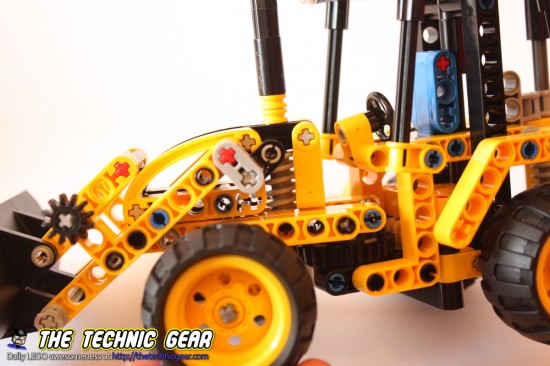 The Backhoe Loader front arm is operated using two axles. The one on the right of the photo, attached to a worm gear is responsible to raise and lower the arm. While the one on the side of the arm, at the left of the image is the one that raise and lower the loader itself.
Articulated steering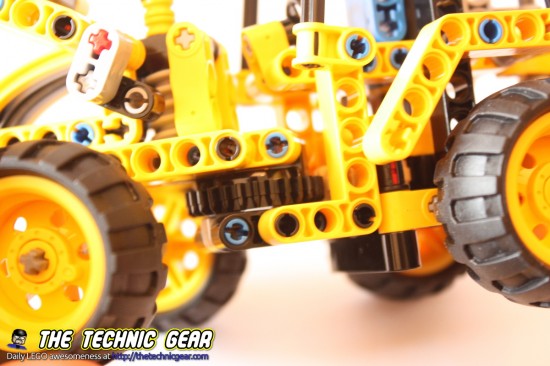 It is pretty cool how this small model mimics the way the real machine turns. It has a small turntable that is geared with an axle that is operated from the top part of the model.
Backhoe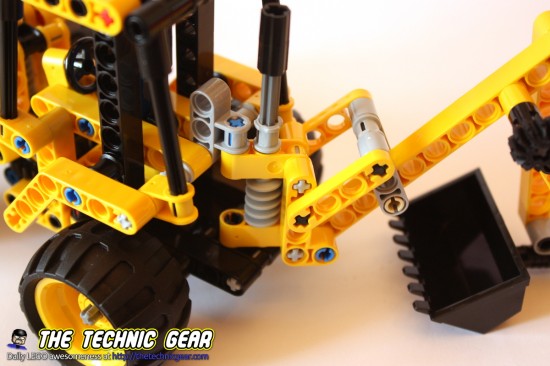 This one works in a very similar way to the front arm.
Overview
Go! Run! Buy one!
Miguel says 9/10
Building experience

Value for money

Playability

Parts

Pros
– Mindblowingly fun to build
– Great price
– So close to the original
Cons
– Nothing I can think of.
Does LEGO 42004 worth the money?
Definitively! If you have to buy just one LEGO Technic Set, go and buy the 42000 Racer Car but if you can afford another this one is a MUST have. And Amazon has a nice price for it