Woo! I thought it will never happen but here they are, the brand new LEGO Trains that replace 7938 Passenger Train and 7939 Cargo Train. I have bought both ( whatelse! ) but today I am going to review for you the 60051 Passenger Train.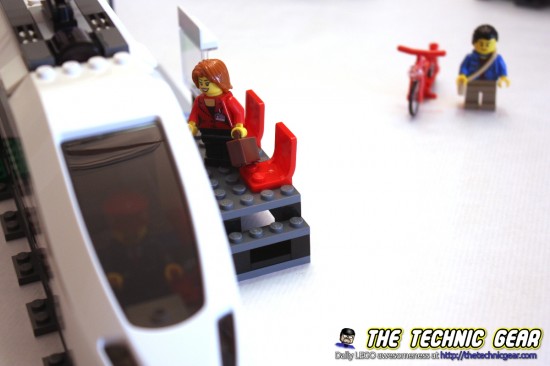 Time to review! By the way, I haven't bought yet the 60050 Train Station but you can see a MOC I did based on it, as well as my own version LDD file ( with PDF instructions ).
Model data
Name Passenger Train
Ref. Code 60051
Theme LEGO City
Year 2014
Parts 610
Price £99.99
Minifigs 3
Where can I buy LEGO 60051?
I bought mine at Amazon because it was already on release 15€ cheaper than at LEGO Shop.
Model background
Travel around the city in no time with the motorized LEGO® City High-speed Passenger Train!
Operate the 8-channel, 7-speed infrared remote control to power around the curved tracks at top speed.
This streamlined, super-efficient train has a high-speed front profile and electricity contact points on top. Lift off the roof of the front car to place the driver inside at the cool dashboard and open the passenger cars to access the seats and tables. Wait for the train with the traveler at the way station, and pedal safely across the crossing with the cyclist once the train has gone past. Includes 3 minifigures: train driver, traveler and a cyclist.
Model Box
This set comes in a big box that contains all the parts and the tracks. As with most big LEGO boxes I am not totally sure you are getting what you paid for…
This is the front side of the box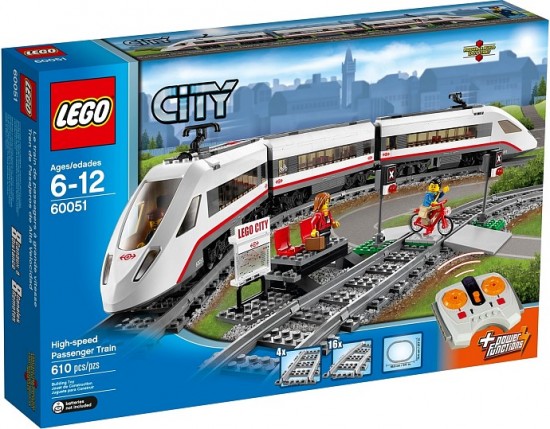 Manuals
This set comes with four instructions manuals, one to build the little station and the rail crossing and the other three to build the train.
Building experience
After building a few LEGO Advanced models on a row ( I have right now the Townhall in mind… ), this set is quite easy to build. No exotic techniques, a reasonable number of parts and some new parts.
If you see the photos, you will realize that the front of the locomotive is a single big plastic piece. This could have been done with LEGO parts instead but I think it really add to the model to have such a strong part there, my 7939 front detached from time to time.
Overall, when I built this model I had the feeling that there were too many shortcuts but the building itself was quite straight forward ( and simple ).
Here you have my timelapse video.
Complete model
Well, this is the complete model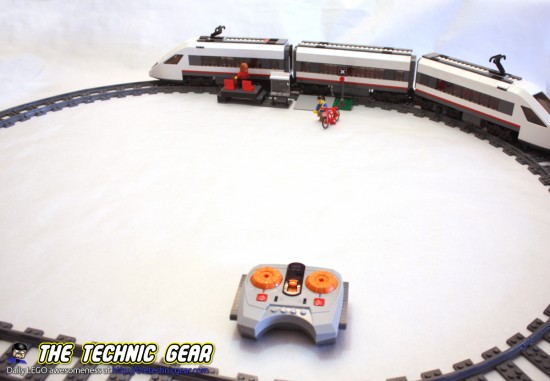 Train station and rail crossing
The station is almost a joke and a clear step back over the one that was available at the 7939 ( that wasn't as nice ), I suppose that when you spend 130€ on a set you can¡t expect anything else…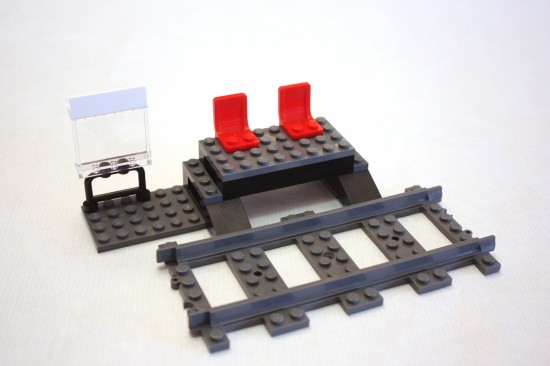 The crossing it done with two ramps and has semaphores that look really nice.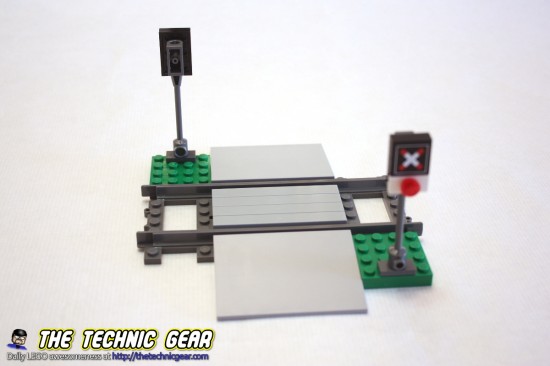 Tracks
Pretty much the same that I complained with 7939, if you want to build anything remotely fun you need to spend money ( a lot of money! ) on tracks, just go and check some of my train layouts.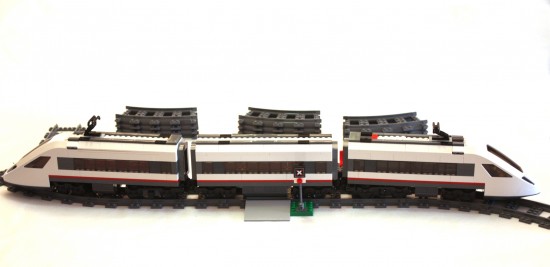 This set comes with 8 curved tracks and four straight tracks and really… you can't do anything else than a small oval with them.
Locomotive
I have to say that when I saw the set for first time a few months ago, I was severely disappointed with the way it looked but once I have built it, I have to say that it looks decent enough and when moving on the tracks it looks quite well.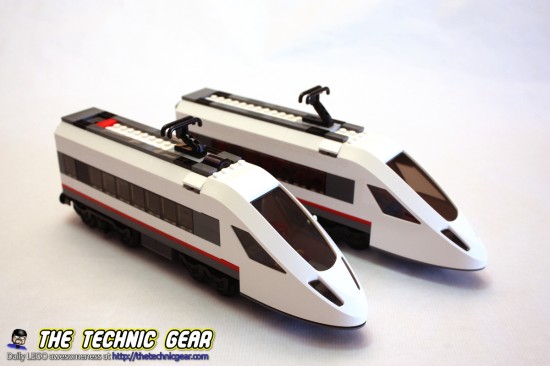 Both ends of the train looks exactly the same, but one of them has the IR Receiver, the battery box and the motor.
The driver cabin is extremely simple but well I suppose it is more than enough.
Passenger Car
If you compare this model with the Horizon Express the result is disappointing ( how many times I have wrote this?! ) but again, I suppose that for a simple set like this the result is decent enough.
There are no extra details inside the car beyond a few chairs and a block that works as a table.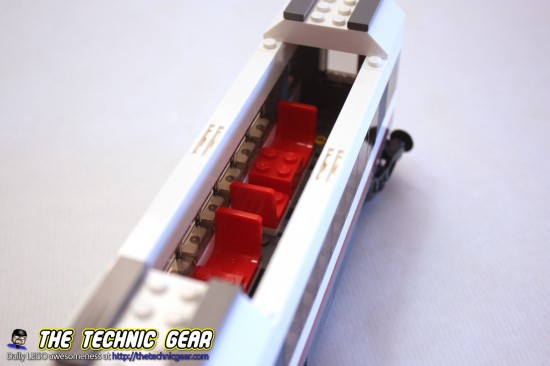 Minifigs
This set comes with three minifigs, one train driver that was driving and had no time for a photo and the two others that you are watching here.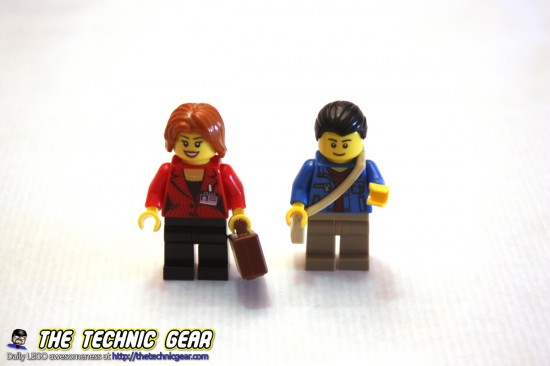 Overview
Miguel says 8/10
Building experience

Value for money

Playability

Parts

Pros
– It looks quite nice when moving on the tracks.
– It is quite straight forward to build
Cons
– Expensive
– As with 7939 Passenger train, I really miss more tracks.
Does LEGO 60051 worth the money?
Nah, it doesn't matter what I say… if you are a train hardcore fan you will get it. If you are new to LEGO Trains, do yourself a favour and order a few ( no less than four ) Tracks boxes when you get this.
Always check at Amazon for a deal of the 60051 Passenger Train before anything else.